We've created a pavement markings comparison guide between Color-Safe® MMA and thermoplastic to assist you in making the best choice for your next installation.
Understanding the properties, functions, and benefits of these materials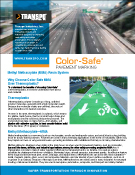 will allow you to make an informed decision when choosing your pavement marking material—and also understand why Color-Safe outperforms thermoplastic.
This in-depth discussion covers important details, such as:
Material attributes
General and specialty applications
Safety features and advantages
Cost savings
Common problems with thermoplastic
Also included is a quick visual comparison chart of Color-Safe MMA versus thermoplastic. These are all the details you'll need to present to logistics planners when it comes time to install, upgrade, or refresh your pavement marking material for highways and roadways, airfields and runways, bus and bike lanes, crosswalks, pedestrian walking malls, and parking installations.
Learn more about how durable, safe, vibrant and color stable, and cost-effective Color-Safe MMA is for your next pavement marking project.