Color-Safe® Durable Airfield Markings
Transpo Industries Color-Safe® is a methyl methacrylate (MMA) resin system used to produce the most durable, cost effective, high definition color airfield markings on the market today. Color-Safe® Durable Airfield Markings are user-friendly, have excellent color retention and will strongly adhere to asphalt and concrete surfaces. With the addition of glass beads or skid-resistant aggregate, this innovative product can be easily modified to suit the specific marking needs of any airfield.
Color-Safe® conforms to FAA regulations for taxiway and runway markings: AC 150/5370-10H – Standards for Specifying Construction of Airport.
Features and Advantages
Variety of Colors and Aggregate Sizes
Durable Skid-Resistant Surface
Excellent Color Retention
Easy Application, No Special Equipment Required
Full and Fast Cure in a Wide Range of Temperatures (40°-100° F)
Reduced Maintenance – Low Life Cycle Cost
Strong Adhesion to Concrete and Asphalt Surfaces
Color-Safe® markings are available in Standard and Custom Colors including White, Red, Yellow, Black, and Pink. You can enhance the conspicuity of the markings by adding glass beads to the Color-Safe surface.
Throughout the aviation industry, Transpo's Color-Safe® Durable Airfield Markings are widely recognized for their quality, performance and reliability. Transpo's dedication to ensuring safer and more forgiving airfields is reflected in the outstanding reputation their airfield markings have earned at airports around the country.
Are you ready to move on from waterborne paint to brighter, more durable MMA markings? Contact the professionals at Transpo so they can assist you in creating a tailored solution for your project.
Click here to see other applications of Color-Safe® including;
Crosswalks and Intersections
Toll Lanes
Speed Zones
Bus Lanes and Bus Stops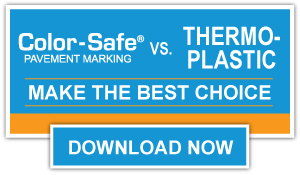 For more information on Color-Safe® and its many applications please visit our Color-Safe® page.