E-Bond 526 has a highly successful 20 year track record with over 12 million square feet across United States and Canada as a waterproofing and anti-skid overlay with deicing capability to reduce or prevent frost and ice formation on Bridge and Parking Decks. E-Bond 526 is also used as a high friction surface treatment and has thixotropic capabilities for ramps and horizontal curves.
There are thousands of bridges with the E-Bond 526 Epoxy Overlay in place that have been exposed to extreme weather conditions for over 15 years of service life while maintaining waterproofing integrity indicated by low levels of chloride ions and retention of skid/friction properties measuring in the 50's.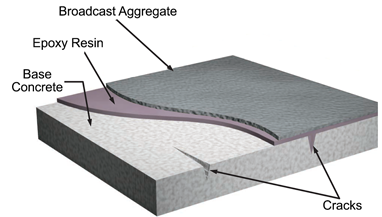 The superior physical properties of E-Bond 526 Epoxy and its unique ability to cure quickly in lower temperatures make the E-Bond 526 overlay material stand out as a cost-effective solution for many of today's overlay projects with very limited construction hours.
For more information on E-Bond 526 Epoxy Overlays please refer to the technical data sheet below.
Transpo Industries, Inc. is the Distributor for E-Bond 526 in the following States:
AL, AK, CT, DE, GA, IN, IL, IA, KS, KY, LA, MD, ME, MA, MN, MS, MO, MT, NE, NH, NJ, NY, ND, OH, OK, OR, PA, RI, SC, SD, TN, TX, VT, WA, WV, WI.