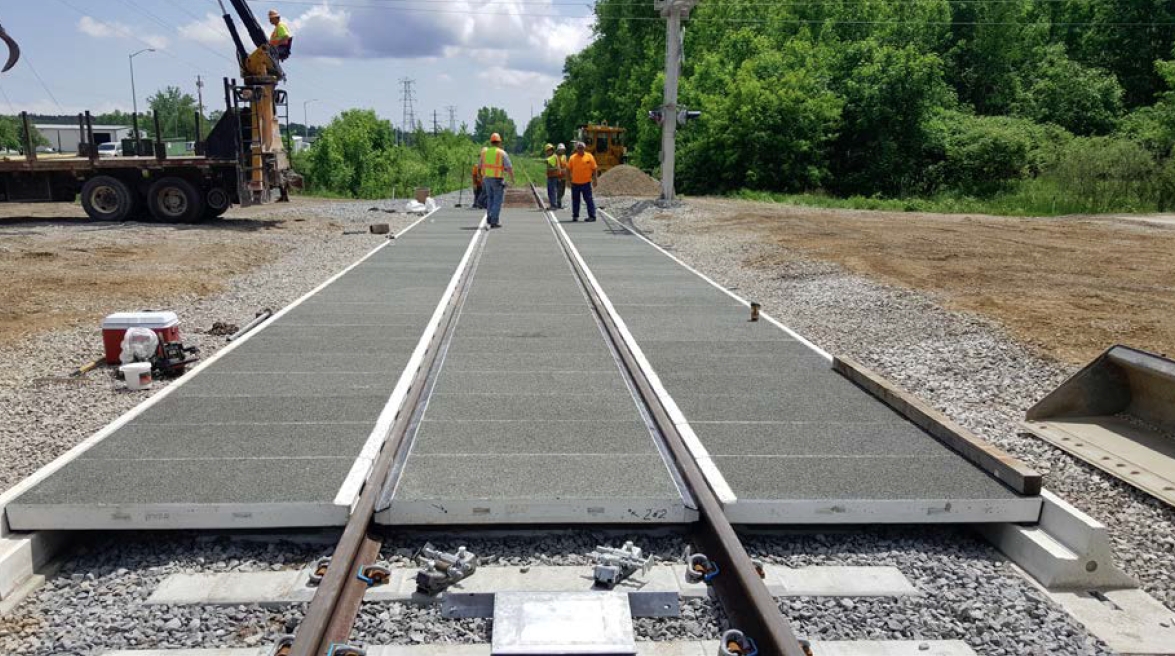 This summer the Wisconsin Department of Transportation (WDOT) and Transpo® Industries joined forces to install the railway pavement marking dynamic envelope as well as Transpo®'s Bodan Highway-Rail Grade Crossing Surface. The new installation took place on a 76 foot crossing in Stiles, Wisconsin on Escanaba & Lake Superior tracks.
Bodan is a precast reinforced polymer concrete rail crossing system that was designed to withstand harsh weather conditions, as well as the wear and tear of high volume highways. This crossing featured a unique stone for the non-skid surface to help ensure maximum resistance. Additionally, since Bodan was created with the needs of the Department of Transportations in mind, it has a unique modular design that allows for easy removal, permitting easy track inspection and maintenance.
Transpo's Color-Safe Pavement Marking for Dynamic Envelope was also implemented, a safety measure that will guarantee optimal visibility for anyone crossing. Color-Safe has already been well established as a durable pavement marking that can withstand the harshest of conditions, but there is still another value that was particularly important in the project: maximum brightness. The Color-Safe markings are the surest route to ensuring all drivers are aware they are crossing a track, and this has been proven to effectively drive down track crossing incidents time and time again.